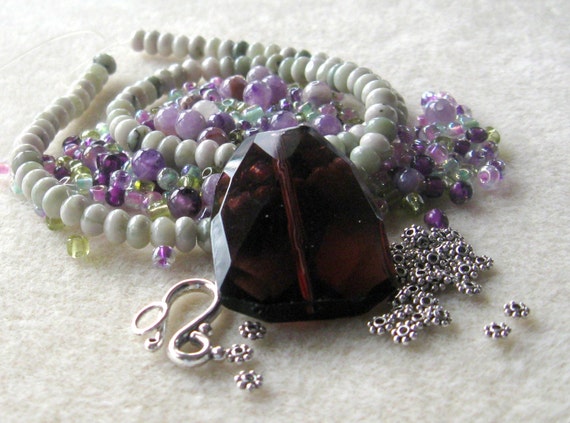 This week we are featuring Cats Bead Kits and their designer jewelry making kits. Dawn Ditter is the owner and makes up all the kits herself. We are showcasing the Amethyst DIY Jewelry Kit seeing as Amethyst is the birthstone for February. Making up this necklace would make a lovely personal gift for a February birthday girl.
Amethyst DIY Jewelry Kit
These kits are designed for the more experienced jewelry hobbyists that already have the skills to make up jewelry and are just looking for beads for their next creation. There are no instructions and you will need your own basic materials like stringing wire and crimp beads and of course the tools. As Dawn says – the kits are 'OOAK' which means 'One Of A Kind' as no two people would make up exactly the same piece from this kit. As a guideline the kit can make up to a 16″ length necklace, but of course you can be creative and make a matching set of a bracelet, earrings and a shorter necklace which is not beaded the full length.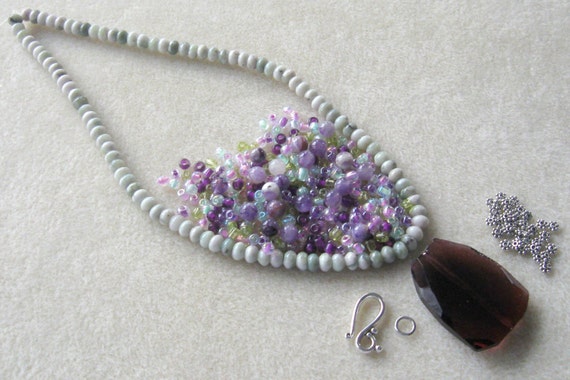 Natural Gemstones
The kit is made up of natural gemstones as well as glass beads. The natural gemstones are Cape Amethyst and Peace Jade which compliment each other beautifully.
Cape Amethyst: Amethyst that is layered or striped with milky quartz that forms attractive patterns. If the patterns form a V shape pattern, it is often called Chevron Amethyst.
Peace Jade: A mixture of Serpentine, Stichtite, and Quartz. The result is a beautiful stone showing subtle blends of spring green and creamy white with the occasional hint of lavender.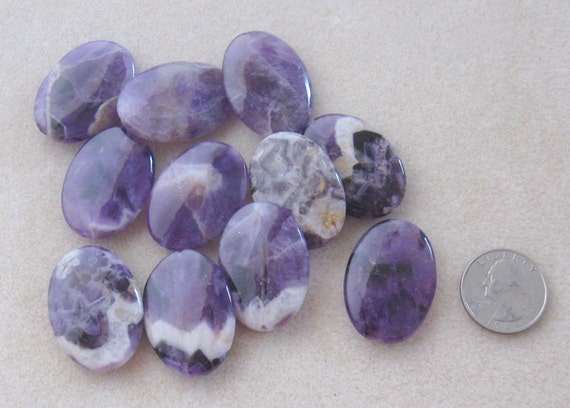 The pendant included in the kit is made from glass but Dawn also has some stunning natural Chevron Amethyst pendants. These come in both rectangular and oval shapes and are slightly smaller than the glass pendant included in the kit.
Why we recommend Cat's Bead Kits
Excellent reviews
Detailed product information
Up to five photographs of each product
Custom made kits
Money back guarantee
Be sure to check if there are any coupon discounts before finalizing your order.
Further Links
More DIY Jewelry Kits from Cats Beads Kits ** More about February birthdays ** More about Amethyst Jewelry.
..
Let us know in the comments what you think about this jewelry kit.

I really like the combination of colors and textures that Dawn has chosen. I would probably add the chevron pendants as they look like they would match beautifully with the other beads in the kit – then I could likely make up more than one necklace 🙂 *Mandy