The Birthstone for April is Diamond
April birthstone jewelry is usually set with the brilliant, translucent April birthstone diamond. However fancy colored diamonds or black diamonds are considered a trendy alternative to the conventional clear diamond.
Alternative (and more affordable!) birthstones for April are any transparent or white gemstones such as clear quartz, white sapphires and white topaz.
Diamond or quartz birthstone jewelry is an ideal personal and meaningful gift for your friends and relatives with birthdays in April, or choose a piece for yourself to wear during April.
Browse the selected birthstone jewelry below - handmade by skilled artisans with quality, natural gemstones. The images and links will take you to that artisan's online store where you can view further information.
---
April Birthstone Rings set with White Topaz in Sterling Silver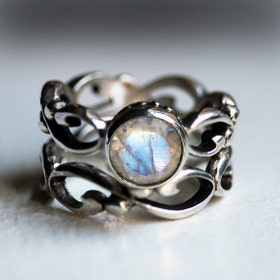 Stephanie of Metalicious, based in New York USA, took a metalsmithing class on a whim in 1995 and has never looked back. Running an ethical business is very important to her and Stephanie only uses reclaimed or recycled fine metals and ethically sourced gemstones in her jewelry. The green ethic extends to office supplies and packaging to ensure her business makes as little impact on the environment as possible, so helping towards a better future for her children.
Here is a selection of Stephanie's unique April birthstone rings set with White Topaz:
---
April Birthstone Earrings set with Clear Quartz
Rachel King is the creator behind Earth Girl Designs based in the Airdondack Mountains, NY, USA. Rachel has a deep love of nature and is inspired by Mother Nature in her handcrafted jewelry designs. Rachel uses only high quality materials and describes the healing and spiritual properties of the gemstones set in each piece. Your jewelry is delivered in nature fiber packaging accompanied by a recycled business card.
Here is a selection of Rachel's stunning clear quartz April birthstone earrings:
---
April Birthstone Jewelry with Raw Crystal - Herkimer Diamond

Jen Photenas and Bob Borofsky of Green Gem (USA) mine primarily Herkimer diamonds and green fluorite, processing the rough crystal themselves into their own unique jewelry designs. Herkimer diamonds are beautiful sparkling quartz crystals found in Herkimer County, New York and are an affordable alternative to real diamonds. As Green Gem source the quartz from their own mines and do not treat the stones any further, they can personally guarantee the origin and purity of the stones.
Here are some of their unique raw crystal pieces:
---
April Birthstone Necklaces with Cubic Zirconia set in Argentium Silver
David and Helen Worcester are the owners of Verbena Place Jewelry (USA), both holding jewelry certifications and have been in business for many years. David is the jewelry designer and producer and Helen sources the gemstones and takes care of the administration. The bright Argentium Silver used in their exquisite designs is made from 100% recycled silver and is purer and more tarnish resistant than sterling silver.
Here is a selection of David's stunning April birthstone necklaces with Cubic Zirconia (CZ) - a synthetic alternative to diamonds:
---
April Birthstone Rings set in Gold or Platinum
For those that are looking for an extra special ring for a milestone birthday, an engagement or wedding anniversary - these exquisite fine jewelry birthstone rings are set in gold or platinum. Diamond is the gemstone for your 10th, 60th and 75th wedding anniversary. Together with diamonds the accent stones could be white topaz, moissanite or white sapphires - all clear gemstones representing April. The talented designers of these beautiful carved birthstone rings are Anjays Designs, Jewel Ice and Winged Lion - all based in the USA.
---
Search for more Handmade Jewelry
NOVICA is a global fair trade organization that imports ethnic crafts and jewelry to the USA from skilled artisans in exotic regions.
ETSY is a global online marketplace of primarily USA and European artists that design high quality handmade crafts and jewelry.
HANDMADE is Amazon's craft department featuring local jewelry and other goodies handmade by USA craftsmen and women.