Garnet is the birthstone for January
Garnet birthstone jewelry is usually made from deep red pyrope – although there are many other types and colors of garnet. In birthstone folklore the meaning of garnet is trust, loyalty and compassion.
Garnet gemstones set in jewelry is a lovely gift for your family with January birthdays. Or treat yourself to a special piece to wear during January. Garnet is the only birthstone for January, one of the few months that don't have alternative birthstones.
Browse this unique selection of stunning Garnet birthstone earrings and Garnet birthstone necklaces handmade by international artisans. The jewelry is imported and distributed in the USA by Novica, a global fair trade organization that assists skilled artisans in building sustainable businesses. They cover all customs and import duties to USA destinations, so customers only pay local shipping.
---
Garnet Birthstone Earrings in Sterling Silver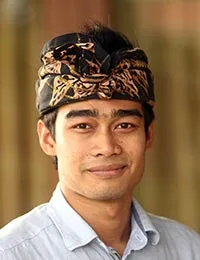 Balinese artisan Komang was born in Celuk to a family of master jewelers and started designing silver jewelry from a very young age. Although his styles reflect his cultural influence, Komang has added his own unique flair and now partners with Novica to distribute his popular jewelry worldwide.
Here is a selection of Komang's intricate Garnet earrings – themed on butterflies and dragonflies:
Indonesian Silver and Garnet Earrings
'Enchanted Dragonfly'

Balinese Sterling Silver Garnet
Earrings - 'Dancing Dragonflies'

Sterling Silver and Garnet Butterfly
Earrings - 'Enchanted Butterfly'
---
Garnet Birthstone Necklaces in Sterling Silver
Neeru Goel, who lives in India, was inspired by her grandmother's in-depth knowledge about how jewelry was made and so began developing her own jewelry designs. Neeru has now been associated with Novica for more than thirteen years and over 350 positive reviews are testament to her talents and passion.
Here are some of Neeru's beautiful Indian style Garnet necklaces:
Garnet and Sterling Silver Necklace
'Queen of Diamonds' (India)

Sterling Silver and Garnet Necklace
'Love's Legacy' (India)

Sterling Silver and Garnet Necklace
'Scarlet Garland' (India)
---
Beaded Garnet Birthstone Necklaces
Narayani from India was inspired by both her mother and later in life by her own daughter to also try her hand at designing jewelry. She says "As the saying goes, it's never too late to fulfill your passion and so here I am, living my dreams which were somehow, somewhere, hidden deep within me." Clearly the artistic streak runs in the family!
Here are some of Narayani's attractive Garnet strand necklaces:
Garnet and Agate Beaded Necklace
'Love's Compassion' (India)

Pearl and Garnet Strand Necklace
'Pure Love' (India)

Garnet Five Strand Necklace
'Desire' (India)
---
Search for more Handmade Jewelry
…

NOVICA is a global fair trade organization
that imports ethnic crafts and jewelry to the
USA from skilled artisans in exotic regions
such as India, Thailand, Peru and Mexico.




ETSY is a global online marketplace
of primarily USA and European artists
that design high quality handmade
crafts and jewelry.




HANDMADE is Amazon's
new department featuring local
jewelry and other goodies handmade by
USA craftsmen and women.



…
These organizations are committed to high standards of social and environmental policies.