The Birthstone for March is Aquamarine
March birthstone jewelry is set with the March birthstones of Aquamarine or Bloodstone. Aquamarine is generally very pale in color to almost transparent and is rarely found naturally in darker blue shades. Bloodstone mostly has a deep green base color with markings in browns, oranges and reds.
Aquamarine birthstone jewelry is an ideal personal and meaningful gift for your friends and relatives with birthdays in March. Or choose a piece for yourself to wear during March, when Aquamarine's properties are believed to be the strongest.
Browse the selected birthstone jewelry below - handmade by skilled artisans with quality, natural gemstones. The images and links will take you to that artisan's online store where you can view further information.
---
March Birthstone Rings set with Aquamarine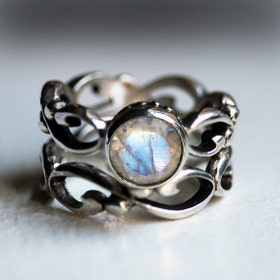 Stephanie of Metalicious, based in New York USA, took a metalsmithing class on a whim in 1995 and has never looked back. Running an ethical business is very important to her and Stephanie only uses reclaimed or recycled fine metals and ethically sourced gemstones in her jewelry. The green ethic extends to office supplies and packaging to ensure her business makes as little impact on the environment as possible, so helping towards a better future for her children.
Here is a selection of Stephanie's unique, trendy March birthstone rings set with Aquamarine:
---
March Birthstone Earrings set with Aquamarine in Sterling Silver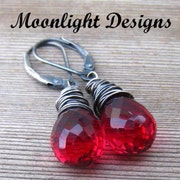 Alona Milton is the self taught jewelry designer behind Moonlight Designs based in Alaska, USA. Alona especially loves raw natural gemstones that are used in many of her exquisite designs. She searches for unusual pieces from around the world to create that unique piece of handmade jewelry that you will cherish for many years to come. Her collection includes handmade birthstone jewelry, mother-daughter matching necklaces and little girls jewelry.
Here is a selection of Alona's stunning Aquamarine March birthstone earrings - perfect for a March birthday gift:
---
March Birthstone Bracelets with Aquamarine Beads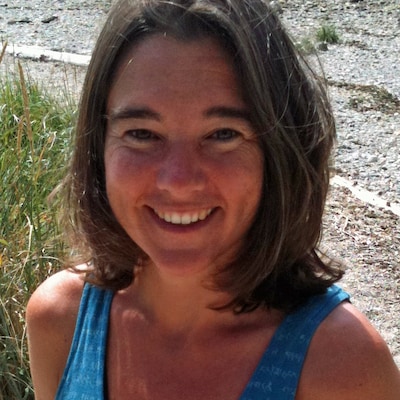 Neva Murtha is the owner-designer of The Spiral River based in Canada. She has a degree in Fine Arts and over the years has combined her passion and talents in pottery and printmaking into striking jewelry art. Neva loves nature and generously donates part of her income to the protection of old growth forests.
Here are some of her stunning beaded aquamarine March birthstone bracelets:
---
March Birthstone Necklaces with Aquamarine set in Argentium Silver
Helen and David Worcester are the co-owners of Verbena Place Jewelry, based in California USA. They both hold jewelry certifications and have been running the business for many years. Helen sources the gemstones and takes care of the administration and David is the jewelry designer and artisan. All their jewelry is set in Argentium 960 silver - a bright, tarnish resistant, recycled silver.
David sets high quality Aquamarine sourced from Brazil in his exquisite March birthstone necklaces:
---
March Birthstone Jewelry set with Bloodstone
Bloodstone is the second official birthstone (or alternative birthstone) for March, and is one of the Zodiac birthstones for Aries (Mar 21 – Apr 19). A dark green background with random dots of red is the typical bloodstone pattern, but there are many interesting pattern and color variations including lovely shades of oranges and browns. Bloodstone is also known as heliotrope or fancy japser.
Bloodstone birthstone jewelry is usually in the form of beads or cabochons and is not generally faceted.
---
Aquamarine Birthstone Rings set in Gold or Platinum
For those that are looking for an extra special ring for a milestone birthday, an engagement or wedding anniversary - these exquisite fine jewelry aquamarine birthstone rings are set in gold or platinum. Aquamarine is the gemstone for your nineteenth (19th) wedding anniversary. Together with the aquamarine gemstones the accent stones could be diamond, moissanite or white sapphires. The talented designers of these beautiful carved birthstone rings are Anjays Designs, Jewel Ice and Winged Lion - all based in the USA.
---
Search for more Handmade Jewelry
NOVICA is a global fair trade organization that imports ethnic crafts and jewelry to the USA from skilled artisans in exotic regions.
ETSY is a global online marketplace of primarily USA and European artists that design high quality handmade crafts and jewelry.
HANDMADE is Amazon's new department featuring local jewelry and other goodies handmade by USA craftsmen and women.