The birthstone for May is the Emerald – one of the rarest and most valuable gemstones in the world. 'Emerald' comes from the Greek word "smaragdos" which means "green stone" and green is the birthstone color for the month of May. Emeralds are associated with friendship, faithfulness and loyalty, which are also qualities of people born under the Taurus zodiac sign. The vibrant green hue symbolizes the renewal of life in Spring which starts in May in the northern hemisphere.
Jewelry set with Emeralds or the alternative birthstone Agate (usually green) is an ideal personal and meaningful gift for your friends and relatives with birthdays in May.
Here is our recommended May birthstone jewelry made by reputable artisans with good quality gemstones and expert craftsmanship.
..
Click on any of the images or links for pricing and further information.
---
MOONLIGHT DESIGNS: Emerald Earrings in Sterling Silver or Gold Fill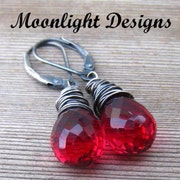 Alona Milton is the self taught jewelry designer behind Moonlight Designs based in Alaska, USA. Alona especially loves raw natural gemstones that are used in many of her exquisite designs. She searches for unusual pieces from around the world to create that unique piece of handmade jewelry that you will cherish for many years to come. Her collection includes handmade birthstone jewelry, mother-daughter matching necklaces and little girls jewelry.
Here is a selection of Alona's stunning natural Emerald earrings as well as her emerald green quartz earrings:
Genuine Emerald Dangle Earrings
Wire Wrapped in Sterling Silver

Brazilian Emerald Earrings
Wire Wrapped in 14K Gold Fill

Emerald Green Quartz Earrings
Wire Wrapped in Sterling Silver
---
VERBENA PLACE: Lab Created Emeralds set in Argentium Silver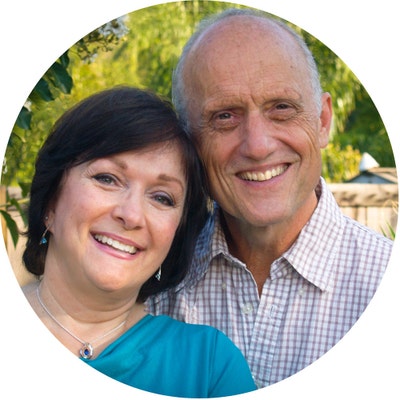 David and Helen Worcester are the owners of Verbena Place Jewelry, both holding jewelry certifications and have been in business for many, many years. David is the jewelry designer and producer and Helen sources the gemstones and takes care of the administration. The high quality Chatham created Emeralds used in their exquisite designs are far more economical and have less environmental impact than mined gemstones. Here is a selection of David's stunning creations:
| | | |
| --- | --- | --- |
| Created Emerald and White Sapphire Necklace | Created Emerald and Silver Earrings | Created Emerald Luxury Necklace |
---
CAMIAS JEWELRY DESIGNS: Lab Created Emeralds set in Sterling Silver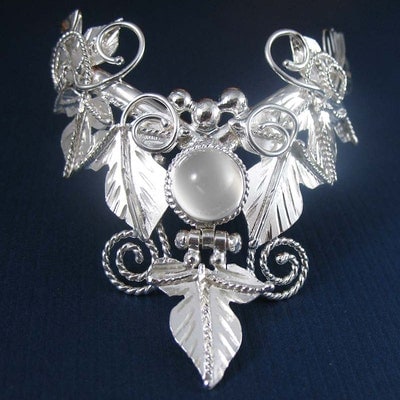 Kelly Graham, from the east coast USA, discovered her artistic talents at a very young age and now has eighteen years experience as a master bench jeweler and metalsmith. She brings a distinctive whimsical element to her jewelry designs made primarily of sterling silver and natural semi-precious stones. Most of her designs can be set with the gemstone of your choice including lab created options. Here are some of her intricate creations featuring lab created emeralds:
Celtic Trinity Knot Pendant & Earrings
with Faceted Lab Emeralds

Woodland Elvin Leaf Necklace
Sterling Silver with Lab Emerald

Waldorf Leaf Neck Torc
Sterling Silver with Lab Emerald
---
ARTISAN JEWELRY: Handmade Jewelry Sets with Green Agate
We highly recommend NOVICA that, together with National Geographic, are bringing artisan jewelry from all over the world to our doorsteps. The marketing and distribution costs to the local artisan are kept down so they can focus on their craft, and the final price to the consumer is great value as there are far fewer middle men. NOVICA is really making a real difference to improve the lives of everyday people and heart-warming stories about the artisans give that personal touch to the item you are buying.
Agate of all colors is commonly dyed to enhance the color and is an acceptable practise for this gemstone. Here we showcase some lovely jewelry sets with Green Agate – the alternative birthstone for May:
Note: Novica covers all customs and import duties to USA destinations.
Komang Wirawan

Sterling silver pendant necklace
with green agate
'Denpasar Dew' (Bali)

Sterling silver floral earrings
with green agate
'Denpasar Dew' (Bali)
Neeru Goel

Green Agate Heart Pendant Necklace
'Rose of Justice' (India)

Green Agate Heart Earrings
'Rose of Justice' (India)
---
Not yet found what you are looking for?
…

NOVICA is a global fair trade organization
that imports ethnic crafts and jewelry to the
USA from skilled artisans in exotic regions
such as India, Thailand, Peru and Mexico.




ETSY is a global online marketplace
of primarily USA and European artists
that design high quality handmade
crafts and jewelry.




HANDMADE is Amazon's
new department featuring local
jewelry and other goodies handmade by
USA craftsmen and women.



…
These organizations are committed to high standards of social and environmental policies.