The main birthstone for November is Topaz of the yellow to orange color. Pure topaz is actually transparent but impurities within the crystal create varieties of topaz in many colors in addition to the yellow to orange range, such as exquisite shades of blue, pale green, pink and red. Some references say the name originates from Sanskrit tapas meaning 'fire' or 'heat' and others say the name may have come from an Egyptian island in the Red Sea originally called Topazos where a yellow stone was mined. Topaz is believed to be associated with constancy, loyalty, faithfulness and friendship. ..
Jewelry with Topaz gemstones or the alternative Citrine is an ideal personal and meaningful gift for your friends and relatives with birthdays in November. Or choose a piece for yourself to wear during November, when Topaz's properties are believed to be the strongest.
View our recommended November birthstone jewelry below made by jewelers and reputable artisans that use good quality gemstones and show excellent craftsmanship.
Click on any of the images or links for pricing and further information.
---
GEMSTONE ARTISANS: Imperial Topaz set in Sterling Silver
Orange Topaz is quite rare and not commonly found in jewelry; blue topaz is the variety of topaz that is usually available. However we did manage to find a few pieces from different artisan collections. Angry Turtle is based in the USA and Spiral River Designs and Princess Ting Ting in Canada. Here are samples of their lovely warm yellow to orange topaz pieces also known as Imperial Topaz:
Rare Golden Imperial Topaz
Bracelet in Sterling Silver

Golden Yellow Imperial Topaz Crystal
Pendant in Sterling Silver

Imperial Topaz Earrings
in Argentium Sterling Silver

---
VERBENA PLACE: Mystic Topaz set in Argentium Silver
David and Helen Worcester

are the owners of Verbena Place Jewelry, both holding jewelry certifications and have been in business for many years. David is the jewelry designer and producer and Helen sources the gemstones and takes care of the administration. Mystic Topaz begins as natural white topaz which is treated with a diffusion process to produce this beautiful multi-color effect. Here is a selection of David's unique topaz creations:
Bold Necklace Mystic Topaz
in Argentium Silver

Modern Necklace Mystic Topaz
in Argentium Silver

Statement Necklace Mystic Topaz
in Argentium Silver
---
ALOK JAIN: Citrine Earrings set in Sterling Silver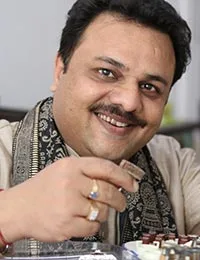 Indian artisan Alok Jain comes from generations of crafters specializing in handmade sandalwood and brass items and of course jewelry. He has progressed from making the jewelry to also designing jewelry and many of his his intricate pieces are inspired by nature – with flower and butterfly motifs. Alok is associated with Novica, a fair trade organization that assists skilled artisans build sustainable businesses.
Here are some of Alok's exquisite handmade earrings set with Citrine, the alternative birthstone for November :
Note: Novica covers all international costs to USA destinations.

Citrine Drop Earrings in Sterling
Silver - 'Golden Droplet'

Sterling Silver Flower Dangle Earrings
with Citrine - 'Petite Petals'

Citrine Birthstone Sterling Silver
Butterfly Stud Earrings - 'Butterfly Gift'
---
ARTISAN SHANKER: Citrine Bracelets set in Sterling Silver
Artisan Shanker from India came from a farming background but was fascinated by the jewelry he saw designed by a local jeweler. He eventually left farming and started his own workshop designing and crafting his own unique style of sterling silver jewelry.
Here are some of Shanker's glamorous handmade bracelets set with Citrine, the alternative birthstone for November :
Note: Novica covers all international costs to USA destinations.
'Bright Blossoms'
Faceted Citrine Floral Bracelet
in Sterling Silver

'Glamour'
Faceted Citrine Cuff Bracelet
in Sterling Silver

'Happiness'
Citrine link bracelet
in Sterling Silver
---
Not yet found what you are looking for?
…

NOVICA is a global fair trade organization
that imports ethnic crafts and jewelry to the
USA from skilled artisans in exotic regions
such as India, Thailand, Peru and Mexico.




ETSY is a global online marketplace
of primarily USA and European artists
that design high quality handmade
crafts and jewelry.




HANDMADE is Amazon's
new department featuring local
jewelry and other goodies handmade by
USA craftsmen and women.



…
These organizations are committed to high standards of social and environmental policies.